July 01, 2013
Dentists for Della named best new student organization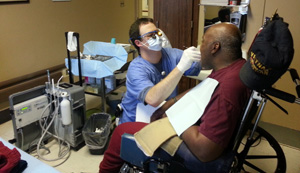 Stephen Parker, dental student at Georgia Regents University, examines a patient at the Georgia War Veterans Nursing Home as part of the Dentists for Della program. Photo by Dr. Katharine Ciarrocca.
Augusta, Ga.—A student service organization that provides oral hygiene to nursing home residents has received an award for being Georgia Regents University's best new student organization.
Dentists for Della began around two years ago and is a project named in honor of Dr. Victor Della-Guistina, a founding faculty member of Medical College of Georgia, retired community dentist and resident of the Georgia War Veterans Nursing home, where dental students assist in providing care.
"It has blossomed into this program where we raise money to subsidize the treatment patients receive and we have a required weekly rotation for third-year dental students, who visit the residents and help provide basic dental treatment at no cost," said Dr. Katherine Ciarrocca, who specializes in geriatrics and serves as the faculty adviser. "It's been a really great process to go from very simple intervention to something that's greatly affecting the patients' quality of life."
The Horizon Award is presented to a new student organization that has demonstrated excellence in programming, leadership and overall enthusiasm during its first years. Organizations must be chartered for no more than two academic years to qualify.
In the spring semester, dental students provided nearly $ 5,700 worth of free dental treatment on 65 people, Dr. Ciarrocca said.
"Dentists for Della partnered with the nursing home because its residents generally do not have dental insurance or other oral health care benefits and do not regularly see a dentist," Dr. Ciarrocca said. "Dexterity can also be impaired in the elderly population so tasks such as brushing teeth or cleaning dentures can be difficult or impossible. In addition, residents cannot easily be transported to a dental office because of lack of mobility or their inability to afford the cost of transportation."
The students and faculty who participate in Dentists for Della continue to raise money to support the project. Dr. Della died in March and, in lieu of flowers, his family asked that money be donated to Dentists for Della.
To contribute to Dentists for Della, contact Dr. Ciarrocca at [email protected].