May 29, 2012
Dr. Reeves takes reins at University of Mississippi School of Dentistry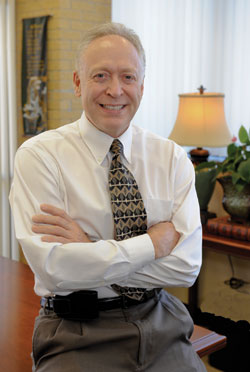 Jackson, Miss.—After more than two years as interim dean, Dr. Gary Reeves has been appointed dean of the University of Mississippi Medical Center School of Dentistry.
"I have been at Mississippi since I started dental school in 1980, and my whole professional career is associated with the school," said Dr. Reeves. "I'm very honored to accept this position."
James E. Keeton, M.D., vice chancellor for health affairs at UMMC, made the announcement May 16.
Dr. Reeves took over as the school's leader after Interim Dean Dr. Butch Gilbert stepped down in February 2010. "Since that time he has provided effective leadership and earned the confidence and trust of the school's faculty, staff and students," Dr. Keeton said.
Dr. Reeves, professor of Care Planning and Restorative Sciences since 1996, has also played an integral role in overseeing the school's renovations for a state-of-the-art clinical laboratory. He said he looks forward to continuing the work he began as interim dean as well as new challenges.
"One of our top priorities is to maintain our excellent undergraduate program," Dr. Reeves said. "One of the advantages that I've had in being here so long is that I've known all the deans at the School of Dentistry. We have had a lot of vision and leadership that created an excellent program, and my goal is to keep that up."
One of the smaller dental schools in the nation with an annual graduating class of 35 students, the University of Mississippi is dedicated to fulfilling its state's health care needs.
"We want to continue to recruit our students from small towns in Mississippi and hopefully, they'll return to those small towns," said Dr. Reeves. "That's one reason we strive for an excellent clinical program. We want our graduates to be able to practice general dentistry anywhere in the state of Mississippi."
The School of Dentistry is part of the University of Mississippi Medical Center and in the future, Dr. Reeves would like to see dental become more involved with UMMC. For example, four years ago the School of Dentistry welcomed its first oral and maxillofacial surgery residents, who are an integral part of the UMMC—the state's only Level 1 trauma center. Those residents are completing the program this year.
The road ahead has some challenges as well, including the recruitment of new faculty to replace those who are retiring. In addition, said Dr. Reeves, "we want to continually examine our outcomes and look for new and interesting ways to accomplish our goals. Part of that is to be more efficient in our operating systems. In this economic climate, it can only benefit us and the taxpayers."
The University of Mississippi School of Dentistry was only six years old when Dr. Reeves arrived as a student in 1980. He served four years in the U.S. Army before starting dental school, and upon graduation and the completion of a general practice residency in 1985, he joined the faculty as an instructor in restorative dentistry. In 2004, he served in Iraq with the Mississippi Army National Guard Dental Corps.