November 09, 2012
Dr. Rotter named SIU dental dean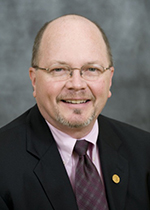 Dr. Rotter
Alton, Ill.—The Southern Illinois University Board of Trustees met Nov. 8 and appointed Dr. Bruce Rotter as dean of the SIU School of Dental Medicine. His appointment is effective Nov. 9.
"Searches for highly qualified deans are extremely competitive, and we were fortunate to have our most qualified candidate already on campus," SIU Interim Provost Ann Boyle said.
"The entire foundation of a properly run School of Dental Medicine must be based on a sound vision of educational quality," said Dr. Rotter. "As chief educational officer, the dean must be the facilitator of that vision, constantly aware that providing educational excellence to our students is our primary mission.
"The dental profession is encountering changes and challenges at a rapid pace, including rapidly evolving materials and technology, regulatory concerns, and access to care and workforce issues," he continued. "It is imperative that the dental school curriculum remain contemporary. It must be proactively assessed and revised based on the demands of the profession and the marketplace."
An SIU School of Dental Medicine alum, Dr. Rotter was associate dean for academic affairs for six years prior to serving as interim dean since June 2011. He joined the school's faculty as an assistant professor in 1993, was named associate professor in 1997 and a professor in 2009. During that time, SIU said that Dr. Rotter created and administered one of the first implant fellowship training programs in the country, which led to the creation of a freestanding implant clinic.
Dr. Rotter was an adjunct associate professor in the Saint Louis University Center for Advanced Education graduate endodontics program from 1996-2000, and since 2000 has been a clinical associate professor in the graduate periodontics program.
Throughout his academic career, Dr. Rotter has been active in the private practice of oral and maxillofacial surgery and has served the Veteran's Administration Medical Center in St. Louis as an oral and maxillofacial surgeon and/or consultant since 1994.
Dr. Rotter earned his dental degree from SIU School of Dental Medicine in 1982. He achieved a certificate in general practice residency in 1983 at Ehrling-Bergquist U.S. Air Force Regional Hospital at Offutt Air Force Base in Omaha, Neb, and went overseas in 1989 to Arhus University Hospitals in Denmark for international exchange training in oral and maxillofacial surgery.
He has a master's degree and an oral and maxillofacial surgery certificate from the University of Iowa in Iowa City, and earned a fellowship certificate in 2000 from the American Dental Education Association Leadership Institute.