November 21, 2012
Gene therapy safely performed in NIDCR human salivary gland study
Bethesda, Md.—In a Phase I clinical study, National Institute of Dental and Craniofacial Research scientists safely transferred a gene to human salivary glands damaged by head and neck radiation for cancer therapy, potentially paving the way for dry mouth treatments.
The results of their clinical study were published in November in the Proceedings of the National Academy of Sciences, according to an NIDCR press release.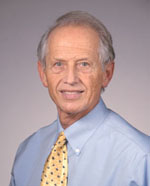 Dr. Baum
The scientists transferred aquaporin-I, a gene that encodes a protein that forms water channels in cell membranes, which is needed for salivary gland cells to secrete saliva.
The promising results of this clinical study make additional gene therapy studies in the salivary glands possible. According to NIDCR, which is part of the National Institutes of Health, salivary glands are ideal for gene therapy, as they are easy to access and appear to prevent a transferred gene from escaping into the bloodstream and causing unintended consequences.
Dr. Bruce Baum is the study's lead author. His years treating head and neck cancer patients in NIDCR's Dry Mouth Clinic in the early 1980s sparked his interest in finding effective treatments to restore saliva flow, according to NIDCR. Though recently retired from NIDCR, he spent 21 years shepherding gene therapy in the salivary glands from an initial sketch on a napkin to the human clinical study phase, the NIDCR press release said. These efforts paved the way to NIH and U.S. Food and Drug Administration review and a Phase I clinical study with human patients in 2008.
Eleven head and neck cancer survivors were treated with a single-dose injection of the aquaporin-1 gene, in a disabled viral vector. The virus was used as a vehicle to deliver the gene into the parotid salivary gland. Ultimately, five patients experienced an increase in saliva flow and reported an improvement of their dry mouth symptoms within the 42-day report period. The other six patients, while not gaining therapeutic results, had no serious side effects, according the NIDCR scientists.
A relatively minor immune response to the viral vector—a disabled, non-replicating adenovirus that causes the common cold—was the most common, though temporary side effect.
"It is time to evaluate a different vector to deliver the aquaporin-1 gene, one that will cause only a minimal immune response," Dr. Baum said. "But these data will serve as stepping stones for other scientists to improve on this first attempt in the years ahead. The future for applications of gene therapy in the salivary gland is bright."