May 23, 2013
OU dental students pitch in after storm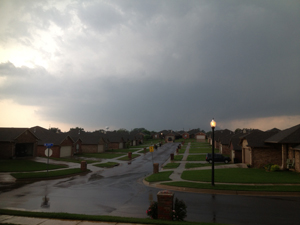 Incoming storm: This is the last thing I saw getting into the shelter, said University of Oklahoma dental student Chad Carter. I immediately sent it to my family saying, we will be hit. At this point the tornado was over the farms on the west side of 35.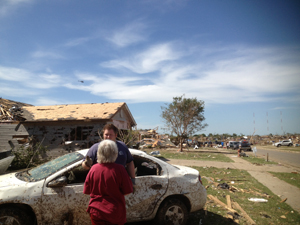 Post storm: Third year student Chris Goelz, standing in front of the destroyed car he used to commute to University of Oklahoma College of Dentistry, talks with a neighbor on Ginger Rd. Plaza Towers Elementary School, which his oldest son attended, is in the background. Photos courtesy of Chad Carter, OU dental student
Moore, Okla.—Chad Carter, third year student at the University of Oklahoma College of Dentistry, emerged from shelter with his and a neighboring family, his emergency gear and bags packed "because there had been a tornado the night before" and he had been dealing with that one when the next one roared through.
"We've been in shelters before but this one was louder, closer, much larger," he said of the tornado that struck an eighth of a mile shy of his home on May 20. He had an emergency vest and a strap for his chain saw, and "we started doing a search, me and four other neighborhood guys, cutting roads clear, cutting downed trees and removing trees from roads so emergency vehicles could get through."
This was 3:30 in the afternoon and they would be on a search and clear mission the next five hours 'till dark, Mr. Carter told the ADA News. Emergency vehicles weren't getting in because they couldn't navigate the debris so Mr. Carter and his colleagues went to work to improve access.
In an hour or two they had cleared Whispering Oaks and moved to Seventh then Sixth Street, Mr. Carter carrying an ax, a crowbar, a chain saw, extra gas, a tarp and a medical equipment kit.
"One guy fell and punctured his leg. I got his leg bandaged and made sure he wasn't in shock and made sure he had plenty of blood flow. I don't know what he thought about having a dental student treat his wound," he told the ADA News. "I stayed with him because he couldn't get back into his house."
"On Tuesday we went back into the same area and another guy from dental school, Rod Davies, and I asked him to grab bolt cutters and we started cutting down power lines blocking the roads. The power was off and these lines were dead. Some were on the ground and some were up in the air, hanging there. People were trying to drive around them and the power company wasn't getting through. We were able to get trucks and trailers in while the National Guard was holding traffic. We also got a roofing crew into an area where we could."
When we reached Mr. Carter by telephone the afternoon of May 22, he said, "I'm in a truck with another guy from dental school, Chris Goelz, and we're going to his house next. My house is in the cordoned off area. It's fine. Just debris hit us. My wife and kids are picking that up and preparing food and getting it to the folks who are working in search and recovery. We don't have any power for the Internet. On Tuesday the gas lines were still shooting gas. Today is the first day they've been able to shut anything off. Wednesday at noon was the first time we had porta potties and generators and lights."
That evening Mr. Carter sent an e-mail message supplementing our earlier conversation. "I am able to get some data now. We are getting some power from a neighbor's generator. I would also point out that all OU dental students are involved with cleanup. I don't know what all is going on because I am still in here. My family's role has been doing what we can in the first 48 hours. As of this evening they have the staging ready for larger crews. Please report that there are many students involved with help all over including supply collecting."
Mr. Carter is an Air Force health professions scholarship student.
Dr. Stephen K. Young, dean of the OU College of Dentistry, describes the school's concern and response here.
Details on ADA Foundation and other Oklahoma relief resources can be found here.