April 21, 2014
Schulman Study Group donates $ 500,000 to AAOF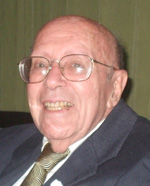 Mr. Schulman
St. Louis, Mo.—To help further education and research in the field of orthodontics, the Schulman Study Group gave the American Association of Orthodontists Foundation $ 500,000—one of the of the largest gifts the AAOF has received.
The gift is called the "Martin 'Bud' Schulman Post-doctoral Fellowship Award," named after the founder of the Schulman Study Group, one of the largest orthodontic study groups in the U.S. and Canada.
The money is designated specifically for research, funding highly prestigious and competitive AAOF's post-doctoral fellowship awards and to be used to underwrite orthodontic research conducted in graduate schools across the country and Canada, the AAOF said.
"We expect that, over time, many of those who receive this award will become some of the most widely recognized and respected researchers and educators within our specialty," said Dr. Robert Bray, a Schulman Study Group member who helped organized the gift.
"Many of our students who receive these awards go on to receive National Institutes of Health funding, which ultimately benefits the orthodontic specialty, its practitioners, and most importantly, the patients we serve," he said.
Normally, large gifts are named after doctors or researchers. However, Mr. Schulman, while not a doctor, dedicated his business consultancy to helping orthodontists and other dental professionals streamline their business operations to deliver more effective patient care. He died in 2008.
"Bud saw early on that orthodontists were in a unique position to help young teenagers develop the self-confidence they need and helped us structure our practices to become patient-centered," said Dr. Ronald Redmond, Schulman Study Group CEO. "Running an efficient practice gives orthodontists time to focus on patient quality of care. Thanks to Bud's insights, many of our doctors are able to find time to give back to the community in other ways by teaching or volunteering in dental clinics."
The AAO Foundation is the charitable arm of the American Association of Orthodontists. Since 1994, it has provided $ 10.1 million in funding, primarily in support of junior faculty through fellowship and research awards.