February 04, 2013
Diverse perspectives, one mission
Pacific University GKAS program meets Hillsboro, Ore., needs head-on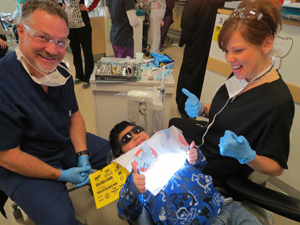 Thumbs up: Dr. Michael Criscione, his wife and assistant Linda and 6-year-old patient Ricky prepare for restorative treatment Feb. 2.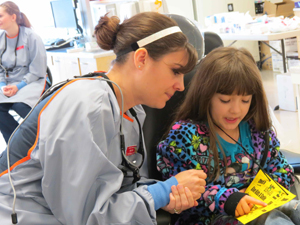 Show and tell: Pacific University student Melody McGee gets to know her patient Ariecia before hygiene treatment at Give Kids A Smile.
Hillsboro, Ore.—If you volunteer for Pacific University School of Dental Health Science's Give Kids A Smile Day, wear comfortable shoes.
Hygiene students and faculty and volunteer dentists from the Washington County Dental Society of Oregon came together for GKAS Feb. 2 and delivered oral health care to more than 100 children from underserved families.
It's perhaps a testament to the depth of organization that goes into the program that volunteers seldom find themselves with free time on their hands.
"Our jobs are so specific today that they really have us focused on what we need to accomplish," said Dr. Anthony Bouneff of Beaverton, Ore.
"They've planned it so efficiently, it's a great way to make sure a lot of kids receive treatment," said Dr. Michael Criscione of Lake Oswego, Ore.
"You can accomplish a lot simply by keeping the communication going between the hygiene and restorative sections," said Amber Johnson, a senior hygiene student and GKAS chair.
"We're trying to help as many people as we can today," said David Nguyen, a first-year hygiene student. "That's why everyone is moving so fast."
"We want to make sure everyone stays busy," said Shawna Rohner, a faculty member at the School of Dental Health Sciences and advisor for the GKAS program. "It's more like organized chaos at times but it works. We're close to double the size we were when we started out in 2009."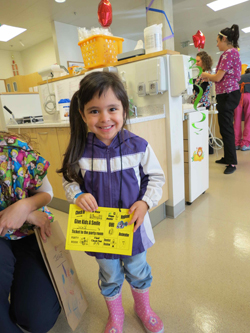 Next up: Four-year-old Jaké shows off her GKAS nametag on which volunteers check off each station she's been to. She's now ready for oral health instruction.
Ms. Rohner is a Give Kids A Smile Program ambassador, designated leaders in their communities who share insights on initiating and expanding access programs. She attended the Give Kids A Smile Community Leadership Development Institute in 2012, which brought together like-minded individuals to learn a comprehensive training curriculum at the site of the first Give Kids a Smile program in St. Louis.
Part of what she took from the institute was a sense that improving the program's efficiency creates a more rewarding experience for the volunteers and patients.
"Careful planning can lead to the development of a program that can be replicated by other schools and institutions," said Ms. Rohner, "and that should happen, because it's beneficial to students and their communities."
For GKAS, half the clinic's 16 operatories are designated for hygiene and the other half for restorative needs. Patients enter through radiology and triage and leave from "OHI," oral health instruction—where hygiene students use visual aides, games and activities to show the kids how to improve brushing and flossing techniques.
Refining the organization of the event often means addressing challenges as they occur. For example, last year's hourly appointments left significant down time when there were no-shows on the schedule. This year, Pacific double-booked.
That, in turn, introduced a new obstacle for hygiene students, many of whom are accustomed to treating adult patients with periodontal needs in clinic for three-hour appointments. On GKAS day, the young patients rotate through every 30 minutes.
"By now, most of us are used to it," said Ms. Johnson. "We've spent time in so many different public health settings, you just have to learn to be flexible. It's great experience for us."
Ms. Johnson believes the No. 1 skill she and her colleagues gain from programs like Give Kids A Smile is cultural competence. Oregon is home to a wine industry that draws a significant number of migrant workers.
"Being able to work with the migrant worker community gives us such a diverse perspective," said Ms. Johnson. "We have to learn Spanish to be able to do that, and that's a skill that will be useful in practice, too."
There are about 15 public health settings that students work in, said Lisa Rowley, program director. They include the Indian Health Service, federal prison system, Oregon Health and Science University clinics, nursing homes and long-term care facilities, and hospitals. Pacific University also has a mobile van with five portable chairs.
Ms. Rowley gives all credit to the students for innovative leadership when it comes to planning GKAS.
"It's all about going out and collaborating with groups we've never worked with before," she said. "The students come up with amazing ideas." An example is the food for volunteers this year, a contribution from the Art Institute of Portland's culinary arts school arranged by Pacific University students.
As the day began, organizers expected between 100 and 125 children from low-income families to arrive at their appointed times. That's more than the 80 children treated last year, largely attributed to the increase in the number of volunteer hygienists and dentists and donated supplies.
One first-time volunteer in 2013 was oral surgeon Dr. Bouneff, a member of the Washington County Dental Society board of directors. By mid-day, he had encountered three children who needed extractions. The procedure is easier done in his own practice, so Dr. Bouneff handed out notes to parents of children encouraging them to contact his office to schedule extractions—emphasizing that like all GKAS care, it's free of charge.
It's one big effort to accommodate families with few options to pay for dental care and provide children with a positive dental experience.
Dr. Michelle Stafford of Portland, Ore., brought six of her staff members for the day.

"Giving back to the community is part of the culture of our practice," said Dr. Stafford, a pediatric dentist. "There is so much need out there, and this school is a wonderful location to be able to provide care. It's a pleasure for us to be here."