February 13, 2013
Rural Arizona program hosts warm, fuzzy GKAS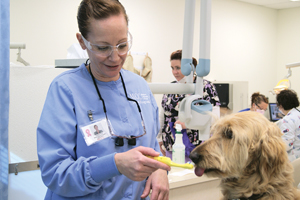 Paws-on demonstration: Dandy sits in the dental chair so that dental hygiene student Kris Ruiz could demonstrate brushing.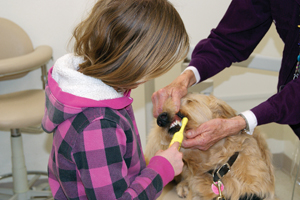 Open wide: A GKAS participant shows what she learned by brushing Dandy's teeth.
Bullhead City, Ariz.—The 80 children who received exams and sealants at the Mohave Community College Give Kids A Smile event Feb. 2 had a warm and fuzzy experience thanks to Dandy, a registered therapy dog with Pet Partners of Kingman (formerly Delta Society).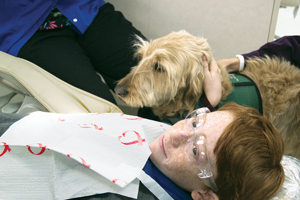 Soothing friend: Dandy says hello to a GKAS participant.
Dandy, an American Kennel Club certified Canine Good Citizen, and her handler Kit Corson, were on hand to soothe any apprehensive children and even helped demonstrate good tooth brushing techniques, said dental hygienist Tracy Gift, dental programs director at the college.
"Dandy was such a hit at our Give Kids A Smile day this year that we've already invited her back next year," Ms. Gift said. "Dandy had to undergo many hours of training with her human, Kit Corson, to be able to participate. We saw 80 kids and placed 539 sealants and Dandy was instrumental in helping several apprehensive children get in the dental chair and participate in treatment."
GKAS volunteers included three dentists, three administrator support staff, four hygienists, one assistant, 38 students and the dog trainer.
The Mohave GKAS not only drew kids from Bullhead City, a city of about 39,000 located on the Colorado River some 90 miles south of Las Vegas, but also from rural areas and small towns up to 100 miles from the college, including Kingman, Lake Havasu, Golden Valley, Topock, Chloride and Meadview, Ariz. as well as Laughlin, Nev.