August 23, 2013
Early detection advocate cites oral pathologists as essential to precancer diagnosis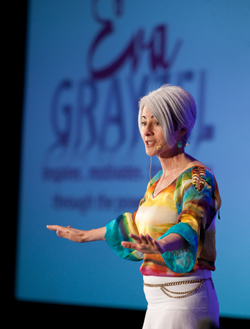 Survival mode: Motivational speaker Eva Grayzel, a 15-year oral cancer survivor, tells her story at the 2012 Apogee Dental Network Summit in Phoenix.
Oral cancer survivor Eva Grayzel has spent 15 years reliving a medical nightmare so that others might avoid the same fate—or worse.
As a motivational speaker, Ms. Grayzel travels the globe using her survival story to spur early detection of oral cancer. In 2003, she spoke at the ADA Annual Session on oral cancer screenings and early detection so dental professionals could learn from the missteps made in her diagnosis.
Ms. Grayzel did not have the benefit of early detection, as a sore in her mouth instead led her on a 2 ½-year ordeal before an accurate diagnosis. By then, her cancer was so advanced she was told she had just a 15 percent chance of surviving five years.
A huge part of her story is this: her trials and essentially the threat to her life could have been avoided if key steps had been taken early.
"It turns out that my biopsy was misread," Ms. Grayzel said. "It was read by a general pathologist—instead of an oral pathologist—who missed the moderate dysplasia, which has a fairly high chance of turning into cancer."
Ms. Grayzel cites other failures along the way, but the missed precancer in the first biopsy was a critical one, delaying her diagnosis for nine months. She later developed excruciating ear pain.
"The earache got so tremendous I really couldn't function any longer," she said. "I was at this point in my life where I wasn't eating normally, my speech was affected. I made an appointment in New York at a major medical center to see a microvascular specialist, not having an inkling that what was on my tongue was remotely serious."
Ms. Grayzel says that move may have saved her life, as she soon learned that she had a stage 4 tumor, though the initial prognosis was very bleak. "I had planned my funeral," she said.
But 15 years later, she is going strong. She founded Six-Step Screening, Best Practice in Oral Care, a campaign to help both dentists and patients, catch oral cancers as early as possible.
One piece of advice she doles out regularly: make sure that an oral pathologist assesses any biopsies of oral tissue.
"People contact me through Six-Step Screening," Ms. Grayzel said. "I get a lot of contacts from all over the world, people saying, 'Hey, listen, I've got this thing on my tongue. I read your story. Now I'm afraid it's oral cancer. My dentist says it's nothing. I don't know where to turn. I don't know what to do.' The first thing I'd say is, well, if it was biopsied, have it re-read by an oral pathologist, if it wasn't already."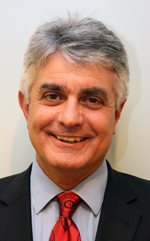 Dr. John Kalmar
Dr. John Kalmar, president of the American Academy of Oral and Maxillofacial Pathology, said that AAOMP urges dentists to work with oral and maxillofacial pathologists, when possible.
"Dentists and dental specialists need to recognize the important advantages of an OMF pathologist," said Dr. Kalmar, who also is associate dean for academic affairs and graduate studies at the Ohio State University College of Dentistry. "First, as part of their training, OMF pathologists review far more oral tissue specimens than general pathologists, including experience with a wider variety of both common and uncommon lesions.
"Second, OMF pathologists can speak to clinicians in the language of dentistry and their dental training allows them to understand and correlate a patient's clinical presentation with the microscopic features of a biopsy."
Dr. Kalmar also noted that many OMF pathologists see patients clinically and often can assist in the management and follow-up of patients with challenging or chronic oral conditions.
In "Differential Diagnosis of Oral Disease," a chapter in "Peterson's Principles of Oral and Maxillofacial Surgery" that Dr. Kalmar co-wrote with Dr. Carl M. Allen, the authors make this point:
"Just as a general surgeon may be able to remove a set of impacted third molars, the general pathologist may be able to provide an adequate diagnosis for an oral biopsy. In most situations, however, professionals who are trained specifically to diagnose and manage problems related to the OMF region are able to accomplish their respective tasks with greater efficiency, accuracy and consistency."
Dentists can use AAOMP's website to locate nearby oral and maxillofacial pathologists and oral and maxillofacial laboratories, said Dr. Kalmar. The site also includes a tab leading to position papers targeting dental professionals on clinical and scientific developments in the etiology, pathogenesis and treatment of diseases that affect the oral and maxillofacial region.
To access this information, visit the American Academy of Oral & Maxillofacial Pathology at www.aaomp.org.