June 22, 2012
Fostering leaders at the ADA 26th New Dentist Conference
Washington—Nothing should stop you from delivering your message, the keynote speaker said in opening ADA 26th New Dentist Conference. It was then that the lights went out in the Presidential Ballroom of the Capital Hilton.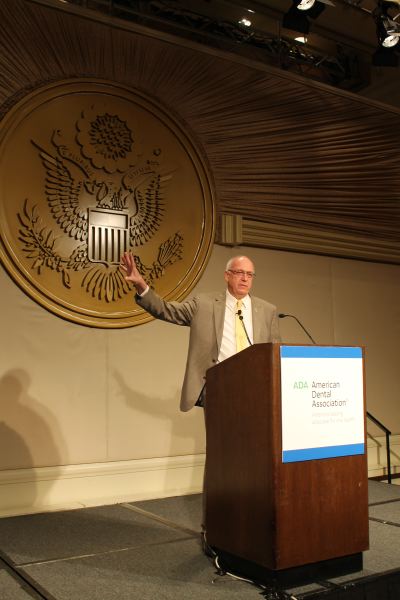 Dr. Calnon: The ADA president asks new dentists to "take advantage of the opportunity to network with the officers and trustees who are here."
That didn't stop Bill Graham, a communications specialist, and it didn't discourage his dental audience, most of them ADA member dentists, from continuing a leadership dialogue in semi-darkness attributed by hotel staff to a local power outage. When the lights came back on, the speaker took the opportunity to wrap it up, having talked his way gamely through it, and a rapt audience moved on to a networking break, having stuck with Mr. Graham without defection.
Committed they were, more than 250 registrants for "a monumental experience" in the nation's capital June 22-24, and courted, too, by ADA leadership, the ADA New Dentist Committee and 15 sponsoring groups and organizations, many of them exhibiting during the conference. Some 60 percent of the registrants identified as ADA member dentists, others including nonmember dentists, students and dental society staff. 
Dr. William Calnon, ADA president, invited their engagement in professional leadership by way of engaging the Association's leaders. "Get to know us. Ask us those questions you have. Take advantage of the opportunity you have to network with the officers and trustees who are here. And don't be surprised if they respond with a question, how would you do it?"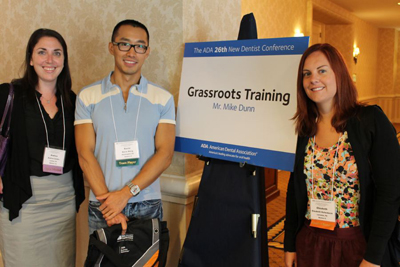 Get involved: Attendees get ready for a program on grassroots training during the New Dentist Conference June 22. From left are Drs. Andrea Goldin, Kevin Wang and Elizabeth Hollenbeck.
"Fostering leaders is a big part of what the ADA New Dentist Committee does," said Dr. Danielle Ruskin, committee chair. "Together, we're strengthening the voice of the new dentist within organized dentistry and building our pool of leaders. You may sometimes hear that it's important to involve new dentists because 'you are the future.' We prefer to say 'we are the now!' "
 For now, on opening day, these new dentists sported name tag ribbons of their own choosing identifying them for New Dentist Conference networking purposes as "Team Player," "Game Changer," "Innovator," "Open-Minded" or "Big Thinker."
Conference sponsors include ADA Insurance Plans, ADPAC (American Dental Political Action Committee) and Wells Fargo Practice Finance (platinum); Quintessence Publishing Co. Inc. (gold); ADA Members Retirement Programs-AXA Equitable Life Insurance Co., Aspen Dental, Maryland State Dental Association, Pacific Dental Services, Patterson Dental, Ultra Light Optics and Yodle Dental Marketing (silver); and ADA Business Resources, Dentaltown, Heartland Dental Care and Medical Professional Liability Agency (general).
Complete coverage of the ADA New Dentist Conference will be in an upcoming issue of the ADA News.