June 19, 2013
Pain management, TMJ disorders expert to lead Columbia dental school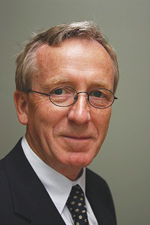 Dr. Christian Stohler
New York—Columbia University College of Dental Medicine has tapped pain management and temporomandibular joint and muscle disorders expert Dr. Christian S. Stohler to lead the school as dean. He also will serve as senior vice president of Columbia University Medical Center.
 
Currently dean of the University of Maryland School of Dentistry in Baltimore, Md., Dr. Stohler will succeed Dr. Ira B. Lamster as Columbia's dental school dean on Aug. 1. Dr. Lamster stepped down in 2012 after a decade and Dr. Ronnie Meyer, vice dean for administrative affairs, has served since then as interim dean.
 
Dr. Stohler earned his D.M.D. from the University of Bern in Switzerland, where he also earned his DrMedDent in hematology and certificates in oral surgery and prosthodontics.
 
Prior to joining the University of Maryland in 2003, Dr. Stohler was a professor at the University of Michigan School of Dentistry in Ann Arbor, Mich., for 20 years.  He was also director of research, a professor and chair of the Department of Biologic and Materials Sciences and a research scientist at the university's Center for Human Growth and Development.
 
At Maryland, Dr. Stohler oversaw the dental school's expansion in size and global presence and administered the introduction of dental services to the Health Center on Maryland's College Park campus. 
 
He helped lead National Institutes of Health-funded pain studies that focused in particular on patients with temporomandibular joint and muscle disorders. More than 120 of his articles and book chapters have been widely cited.
 
Columbia's school of dental medicine was established in 1916. Current major research projects at the school include the use of stem cells for craniofacial reconstruction and the relationship between oral health and systemic diseases.